Asian-American Forum
Fall 2012 Issue no. 15

Editor Note: The editor has decided to include articles submitted to Asian Pacific Americans for Progress (http://www.apaforprogress.org) also in this seasonal newsletter. Any cross-posted articles will be identified by name and date submitted, and the reprints here will serve to verify authorship. The particular blog can be accessed here: http://www.apaforprogress.org/blogs/chriswong.


Kollaboration Star 2012: Empowerment and Fun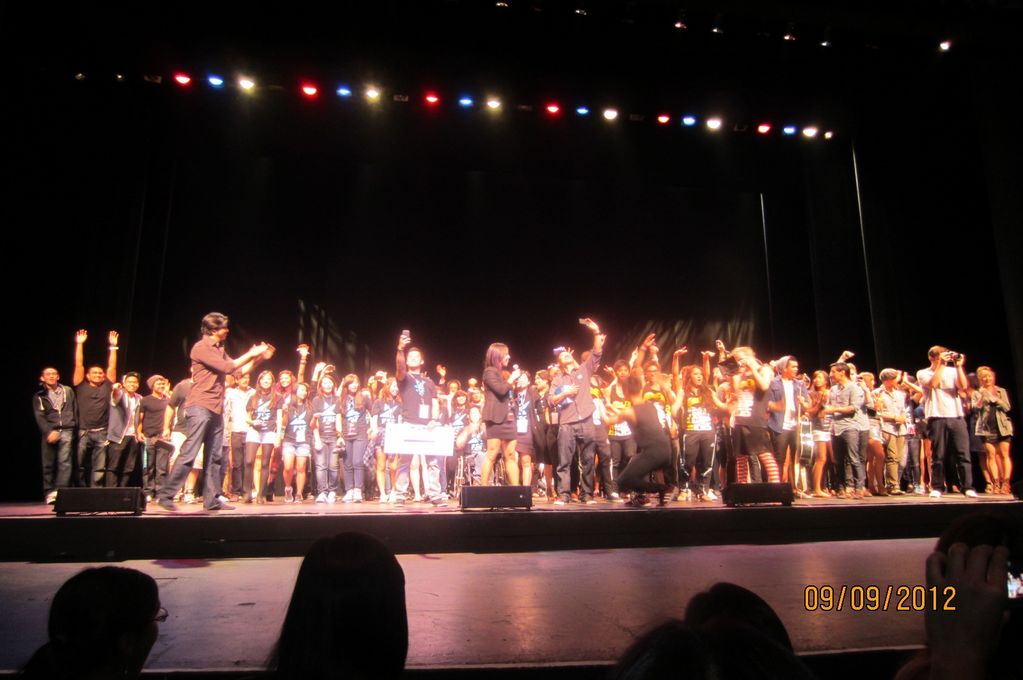 San Francisco--"Empowerment Through Entertainment," that's the motto of Kollaboration, according to founder Paul PK Kim. My opportunity to experience one night of Asian-Pacific Island American (APIA) music, dance, and empowerment came when I attended Kollaboration-SF 2012 this past September 8th.
Officially, Kollaboration's entertainment festival is based upon a theme of musical and dance competition, rather like American Idol. So far, Kollaboration has produced 15 shows across 14 cities in North America. By coordinating and drawing from emerging rock musicians at each locale, Kollaboration provides the ideal backdrop for entertainer exposure. It's even become the unofficial APIA entertainment headquarters on a national scale, archiving annual premier events.
Prior to attending the Kollaboration-SF 2012 extravaganza, I was able to read musician bios and sample clips from each finalist at http://kollaborationsf.org/show/kollabsf2012/. As a Meet 'n Greet journalist, I had some homework to do, but it was pleasurable to hear and anticipate the various guests. When show time arrived, with so many in the lineup, including dramatic poetry by Mush and SF stand-up club comic KT Tatara, the program seemed to advance on a march. Each finalist was allowed to perform only one song.
Even so, it appeared that many in the audience at UC Berkeley's Zellerbach Hall were intimately familiar with finalists and special performers' tunes from the internet. I was treated to the roaring enthusiasms of many APIA students, donors, and patrons, waving their red flashy LED batons and shouting out the names of their favorite performers. Some of the female audience was clearly swept off their feet, singing along and webcamming their idols, whether Joseph Vincent ("If You Stay"), or YouTube sensation, Jeremy Passion.
Kollaboraton-SF 2012 had attracted visitors and staff from faraway places, including Chicago, Seattle (New Heights band), and Korea. Photographers and DJ were on-hand to capture and balance finalist sensations such as American Idol vocalist Jayne Rio's synergy, and Filipino Dustin Ako's sexy "Killing Me Softly" cover.
I really wished I could hear each finalist play a bit more. For instance, being a New Age jazz enthusiast from outside the Bay Area, it was such a treat to hear virtuoso Corey Wolffs' (CryWolffs!) sizzling electric violin number (http://www.youtube.com/user/syphor281?feature=results_main). Or to whet my appetite for some cool night jazz by LA band Outer Sunset.
Music is, of course, a form of empowerment because it carries such personal agency. Even Angry Asian Man digs and follows LA Indie-folk ensemble Monsters Calling Home in their gentle meanderings (see http://blog.angryasianman.com/2012/09/monsters-calling-home-get-their-big.html) which included performing "Fight to Keep" at Kollaboration-SF.
Between competitor pieces, there were also lively guest performances of Asian Hip-Hop by VIP San Jose, and a number of amusing flatulence control jokes by the MC himself, Paul "PK" Kim. No, seriously, where and from whom else can one hear this mix with anecdotes about invites to the White House? For similar reasons, everyone dug Team Loopkicks, a fancy mix of free-dance, kickboxing, and exciting combat moves. (Both VIP and Loopkicks are based in San Jose—kudos to both for volunteer community hours!)
During the intermission, I interviewed one Loopkicker who assured me that they practice as a team at least several hours a week, and give many free performances in schools around the country. For some reason this reminded me of Step Africa! Company's live performance I had seen at the Millennium Stage in Washington, DC.
The second part of the program included UC Berkeley's Soulfull's contemporary Christian rock group, followed by moving guitarist-singer Peter Chung. It was a really close call among the audience with everyone screaming out their favorites. No one really seemed able to make up their mind. The judges, choreographer Ellen Kim, singer Jeremy Passion, NBC anchorwoman Janelle Wang, and State Assemblywoman Fiona Ma, retreated behind the curtains in consultation with one another while PK allowed the vocal singers then freestyle dancers to wow the audience with their voices and feet.
It was just such an unforgettable evening. There were so many take-aways, just like the Kollaboration staff promised. "One show can change the world," PK Kim says in the About Kollaboration video (http://www.kollaboration.org/about/kollaboration), "You're not just the money you make." Or, "We provide a venue for people to just express themselves," according to staffer Jenny. "You leave the show feeling accepted in a sense," a Kollaboration Intern expressed with concision, undoubtedly a sentiment conveyed by the many volunteers as well.
Now Peter Chung, winner of the Kollaboration-SF 2012, and audience favorite, Soulfull, thankfully have a reason to continue to compose authentic mainstream American music and follow their unique artistic dreams.
Knowing how Asians can be so focused on achievement sometimes, I was worried about the competition, but despite the star-studded program, the environment felt relatively low-key and festive. In fact, I couldn't recall when I had seen so many enthusiastic young Asians thronged together within the spacious Zellerbach Hall. But most definitely, I am now convinced that there are many multiple-talented APIAs, ones worth commercial air time, too, if they could just be offered the decent chance.
Kollaboration is all about giving APIAs a chance to become recognized entertainment names. The final round for the national Star title is currently underway. This Friday, November 16th at 8pm, the regional finalists from the West, East, Mid-West, and South will gather for the Kollaboration Star 2012 Finale at Alex Theatre in Glendale, California.
Tickets start at only $20, and there will also be an after-party.
Sources:
http://www.kollaboration.org/news/upcoming
http://kollaborationsf.org/show/kollabsf2012/
http://www.hyphenmagazine.com/blog/archive/2012/10/kollaboration-city-winners-will-compete-kollaboration-star-2012

Photo and article prepared by Christine Wong, Free-lance Journalist
Masumoto Nominated for National Council on the Arts 2012
by C. Wong
I disagree with Mr. David Samuels ' portrayal of President Obama as a jet-setting paper tiger in this September's Harper's magazine article, "The Changeling." To be sure, the President has conscripted quite a few Super-PAC fundraisers, but he still has plenty of soul left. This past summer, the nomination of organic Valley author-farmer David Mas Masumoto was one such proof.
Del Rey farmer David Mas Masumoto (DMM), an unassuming Japanese-American author, has written inspiring epistolaries contained in books such as Letters to the Valley, and Heirlooms. The National Endowment for the Arts nomination may seem but a tidal mark in his career, but the recent embittered power struggles within the Fresno Unified School District has proven that local Hmong remain just so much political fodder. In contrast, hopefully, Mr. David Mas Masumoto's addition will be a reminder that change, like wisdom, can be ever-present.
Soon after reading about Mr. Masumoto's nomination, I yearned to acquaint myself with this third-generation farmer's writings. Is his style like Benjamin Banneker, originator of the Farmer's Almanac? Or is he more like an Asian version of Henry David Thoreau?
Of course, the public (including me) have long had accesss to his essays via the Fresno Bee column (now online). But his books are just so much better, like receiving your very own Harry and David gourmet gift package made to order. In fact, this organic farmer reflects, provides, and evinces such a timelessness, it can only be surpassed by the beautiful rural scenes of his books, with paintings by Doug Hansen.
In essays of Letters, one experiences a reawakening to not just DMM's personal history or visions as a farmer, but a collective rural American past. This is the Americana which we have archived in library collections, faded black and white photos such as those framed on rustic diner's walls, experienced only when we care to take the back roads out into the country. I like how Democratic Representative Jim Costa had this to say with regard to his nomination:
As a farmer and an author, he [DMM] has grown and created things of beauty his entire life. His words jump off the page and give life to what is special about the place that we are proud to call home.
In his letters to his daughter, son, mother, dad, grandmother, friends, or neighbors, DMM creates imaginary ideal dialogues. Not today's quick, rushed tweets filled with regrettable troll-like sarcasm. Nor tommorrow's sorrowful forecasts or all-embracing platitudes. There is something so wholesome, immediate, and touching about these epistolary dialogues, that it transcends all the attachments, guilt trips, power trips, and angsts of today's nerve-wracked pace of life, filled with everyone's need for instant gratification.
Many hopeful writers and artists, professionals, scholars, or amateurs, are proud to have David Mas Masumoto as the Valley's National Council on the Arts representative. Imagine new cultural arts events, arts trails, landscape, museum, fundraisers, venues, contest, mural, and yes, maybe even scholarship infusions. Maybe we will even get our own version of DC's Street Sense newspaper (newspaper exclusively established by and for the homeless), going right here in the Valley. Maybe we will start having our own version of DC Kitchen, so ex-cons can become culinary artisans.
Here is how Representative Jim Costa closed his statement about the nominee:
He [DMM] will be an invaluable asset to the National Council on the Arts. There is no more fitting testimony to his contributions to our nation and the San Joaquin Valley than this nomination.
For once, I totally agree.
Source:

Costa, Jim. "Rep. Costa Statement on Nomination of David "Mas" Masumoto to National Council on the Arts. U.S. Congressman Jim Costa. Costa.house.gov, n.d. Web. 17 Oct. 2012
Review of The World in 2050: A Civil Perspective
by Christine Kroll, P.E.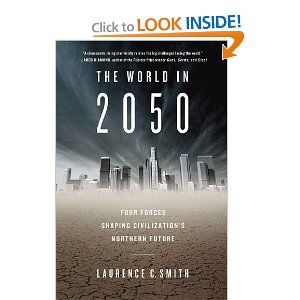 The World in 2050 by Laurence C. Smith was published in 2010. I am reviewing it because the issues are so grapplingly relevant during this election year 2012, with implications for years beyond.
According to Dr. Smith, a University of California professor and geophysicist, the Earth is set on a warming trend, one that is long-term, irreversible, and accentuated by human activities. Smith's book is a "thought experiment" of projected scenarios under four major forces: demographics, resource demands, globalization, and climate change. There are troves of data and ideas on how these forces will essentially "push" human exploration northwards, even while the "pull" of social choices invite humanity to address micro- and macro-trends within their present habitats.
The "push" part of The World in 2050 paints grim forecasts due to burgeoning southern populations amid diminishing resources based upon contemporary supply-demand trends. Not only is a new drought possible in place of the Great Plains, but rising oceans will threaten delta cities around the globe. With regard to potable water, decreased snowfall and depleted aquifers will place additional stresses upon existing rivers and reservoir systems. Advanced civil engineering developments (bundled within Smith's mysterious fifth force--the technology enigma) can help stay the dikes, and provide for desalinated drinking water.
Smith's depictions occur within the realm of glacial landscapes and geologic timeframes, compacted by recent technological innovations. Over-pumped drought basins can be peppered with green wind turbines feeding into energy grids; gleaming transnational canal systems flow out of water-rich frozen demesnes; melting permafrost can be assuaged by land-use agreements. Megacity consumers will dictate smart regional integrations which are both energy efficient and environmentally friendly.
Actually The World in 2050 traipses carefully around potential environmental potholes. The professor all but admits that northern energy development companies, such as Athabasca Tar Sands, are messy, environmentally invasive, but hugely profitable. The northern frontier, Smith even allows himself to romance, can be compared with the Louisiana Purchase in 1803. Let us not forget how in under two short centuries, the once native picturesque plains, as described by historian Francis Parkman in The Oregon Trail, have become denuded of wild buffaloes and red-men.
America should not avariciously leech onto the resources of the Great North without due reflection and contrition over her excesses, even if the Pentagon allows for more wars, terrorist insurgencies, and even Arab Springs to distract the populace. 2012 should be a time of thoughtful deliberation over courses of action; not indifferent proactive market speculations; not merely weathering congressional investigations over corruption charges. Otherwise the current course of increasing accelerated corporatization of once open, public New Deal federal work programs ensures that the common day laborers, and increasingly landless white collars, are to remain on their Trail of Tears.
Smith's researched "pull" tables and global maps of "pessimistic," "moderate," and "optimistic" century-long warming trends, which justify the projected growth and clout of Northern Rim Countries (NORCS), are as tantalizing as they are mind-boggling. Relatively affluent aging global middle-class citizens assure that not only geriatric services will thrive, but also NORC tourism, such as get-aways to Mongolia, Harbin, or Iceland. Longer, active lives can translate into extended working lives--provided there are adequate jobs and affordable health care. According to Laurence, however, the single biggest public health concern, whether due to climate change, shifting demographics, or globalization will be meeting the demand for clean water. Thus, Smith envisions that Northern Rim ports will expand, whether due to increased immigration, or natural resources trades including timber, metals, fish, oil, water, and even agricultural exports.
Dr. Smith's "pull" projections, although generously contextualized with socio-historical energy primers, leave some matter out for speculation. One noted weakness is that very little attention is paid to the potential of Antarctica and her southern rim countries. Another might conceivably be the underpinnings for the "thought experiment"; that is: 1) no silver-bullets; 2) no world war; 3) no hidden genies; 4) models are good enough. Without turning his thesis into Swiss cheese, one might conceive that these conditions are already occurring. Arguably, we have already entered an age of prolonged low-level nuclear war, aided by drones and unmanned submarines. This book's publication preceded the Fukushima earthquake and unfolding nuclear disaster, itself the genie of an increasingly avaricious, unstable, globally competitive planet. Corporatization of the educational system, allowing for falsifying or hijacking research data, is unprecedented. The extent to which small genies may interfere with, warp, or leave unfulfilled the projections for futures speculators are blind spots which grassroots nonprofits, Occupiers, and dissident scholars will need to continue to battle.
One presumptive force in addition to the four major forces (demography, natural resources, globalization, and climate change) is technology, which Dr. Smith describes as entwining itself among the first four. Examples include global satellite networks, smart energy grids, nano- and bio-technologies. In fact, the power of the fifth force rightly constitutes libraries themselves. Imagine how far removed 2050 appears today as 2010 did in 1960!
Be this as it may, it is apparent that Laurence expresses the hope that human ingenuity in technologies will successfully overcome what simple environmental mandates have too often already failed to (albeit due to policy reversals). Political skeptics will not fail to notice that many existing environmental technologies (pollutant scrubbers, secondary and tertiary treatment technologies) continue to be dispensed with, lobbied against, and that the number of hazardous toxic waste (not to mention nuclear waste) dumps have actually increased over the past decades. Are readers naïve enough to believe that the sobering projections of population increases, coupled with water imbalances from global warming and diminishing natural resources, can be readily resolved via smart human engineering and strategic globalization? Even now, the upper echelons of academic aristocrats married to government officials have become elite institutions around which corporate planners flock to pay court.
Nevertheless, I find that The World in 2050 is a must-read, an indispensable futuristic survival manual for engineers, scientists, planners, and thinkers. Whenever President Obama's 2011 Jobs Act and Transportation Bill does receive Congressional approval, it is hoped that this time around, a more public-spirited Committee of Oversight will be established to ensure that there are no more Solyndras, front-organizations, crony-capitalists, or other fancy ponies waiting in line to line their pockets. Instead, the Global Warming Oversight Committee will prioritize levee reconstructions (versus subsidized establishment of new global cities); balance national grange land reserves versus private windmill farms; provide tax breaks for scrubbing chemical pollutants versus supporting research for alternative processes; invest in desalination plants versus instigating international water haul agreements; decide how to deregulate energy companies versus bureaucratic incentives for energy savings.
Can the United States, the world leader, do all these things? Maybe we have only to examine the past, the world in 1950, and clean, past presidential administrations, to see what is truly possible.
Photocredit of book jacket from Amazon.com (http://www.amazon.com/The-World-2050-Civilizations-Northern/dp/0525951814)
Article reprinted at GlobalResearch.ca on October 2nd 2012. Jack A. Smith's article "The Obama Administration Ignores Global Warming and the Protection of the Environment" is also worthwhile.
Bain Owned Factory Outsourcing Jobs for China
by C. Wong
Tampa, FLA-- Today Democracy Now! Founder Amy Goodman interviewed a couple of workers from Sensata Technologies in Freeport, Illinois who have traveled with their group to the Republican National Convention (RNC) to petition Republican presidential candidate Mitt Romney to help save their jobs.[1] Can Mr. Romney, co-founder of Bain Capital and majority owner, please recall Bain Capital's decision to move Freeport's Sensata Technologies plant to China? Their pleas in Freeport have so far been ignored, despite appeals to politicians and even Illinois governor Pat Quinn.[2]
It is not as if Sensata, owned by Bain capital and which bought the Freeport plant from Honeywell at the start of 2011, needs to be overly concerned about profit. Sensata, the world's leading supplier of sensors and controls from vehicles to aircrafts, has posted record earnings according to company press releases: "Second quarter 2012 net revenue was a record $504.6 million, an increase of 10.9% from the second quarter 2011 net revenue of $455.0 million." [3] But obviously, capitalism is more about money than about people. This is why according to reporter Paul Harris, "Romney has portrayed Bain as a model for the American future."[4]
A model for the future of America will be to exacerbate unemployment problems, such as in these already hard-hit Midwestern towns, in the name of corporate profits and other austerity measures? As bit by bit the machinery at the Freeport Sensata factory have been shipped to China, these 170 long-time employees are increasingly anguished about their future and being converted from high-pay to low-wage earners, not to mention concerned about future homelessness and other social costs (Asian backlash included).
This is why a group of workers have been petitioning to save their jobs scheduled to end this year. In response to Amy Goodman's question on why she was protesting at the RNC, Cheryl Randecker replied,
Mitt Romney created a model of outsourcing jobs, he created Bain, so therefore, it is his responsibility. And he is still reaping very high benefits from Bain, in the financial end of it. So he can pick up the phone and call his buddies and say, we need to stop this practice, and keep the US jobs here-- good paying jobs, not the lower-paying jobs.[5]
Randecker expresses the heart-wrenching feeling for U.S. plant workers forced to train future Chinese workers how to operate their own highly technical equipment. Meanwhile, the Romney campaign touts photos of various supporters under its Communities webpage, including "Asian Americans and Pacific Islanders for Romney," "Farmers and Ranchers for Romney," "Lawyers for Romney," and even "Polish Americans for Romney."[6] Photo opportunities for corporate benefactors, perhaps?
Asked by Ms. Goodman what he would have to say to the candidate if Romney deigned to meet with them, protester Tom Gaulrapp replied, "What I would say is he should be ashamed of what they are doing, because they are destroying our American dream to increase their profits."[7] In fact, Mr. Gaulrapp would know, since he (along with other factory workers) have been tirelessly petitioning at various Romney campaign offices and events, such as in Wisconsin and Iowa, only to be locked out of offices or heckled by Romney supporters as "communist," and "un-American."
"They make it sound like we're not patriotic," Tom Gaulrapp defended, "...These products have always been profitable, and it is just not enough... They should be ashamed of what they are doing, because they are destroying our American dream to increase their profits."[8] Try profitable by the ton because since its takeover of Sensata, Bain has "quadrupled its initial 2006 investment."[9]
My conclusion is that this is yet another demonstration of how for-profit austerity measures will pinch the American middle-class out of its hopes and savings. It will potentially divide them, too, as they continue to scrabble for fewer and fewer high paying professional positions.
Sources:
1. Amy Goodman, "Workers at Bain-Owned Illinois Factory Bring Fight to Save Their Outsourced Jobs to Romney and RNC,"
Democracy Now
, August 28, 2012, accessed August 28, 2012,
http://www.democracynow.org/seo/2012/8/28/workers_at_bain_owned_illinois_factory
.
2. Paul Harris, "'I'm sick to my stomach': anger grows in Illinois at Bain's latest outsourcing plan,"
The Guardian
, August 10, 2012, accessed August 28, 2012,
http://www.guardian.co.uk/business/2012/aug/10/illinois-workers-bain-outsourcing
.
3. Sensata Technologies Inc., "Press Room,"
About Us
, Press Release July 25, 2012, August 28, 2012
http://pressroom.sensata.com/phoenix.zhtml?c=210277&p=irol-press&nyo=0
.
4. Harris,
The Guardian
, August 10, 2012.
5. Goodman,
Democracy Now
, August 28, 2012.
6. Romney for President, Inc., "Asian Americans and Pacific Islanders for Romney,"
Romney Ryan
, Team Virginia, accessed August 28, 2012,
http://www.mittromney.com/coalitions/asian-americans-and-pacific-islanders-for-romney
.
7. Goodman,
Democracy Now
, August 28, 2012.
8. Ibid.
9. Harris,
The Guardian
, August 10, 2012.
****************************************************************************************
For permission to reprint articles, please contact: inquiry@columbiapress.org.
How to Cite Any of the Above Articles Using MLA Format:
"Name of Article." Asian-American Forum. Columbia Press, Fall 2012. Web. Date of Access. <www.blu-geese.org>
How to Cite Any of the Above Articles Using APA Format:
Wong, C. (2012). Name of article. Asian-American Forum, 15. Retrieved from http://www.blu-geese.org/
Past Newsletters
Disclaimer

: Asian-American forum is a free e-Newsletter published by Blu-Geese.org. The views expressed vary seasonally, like the winds, with content subject to adjustments, editing, and revisions. The facts, names, and dates in creative non-fiction works are fictive; all referenced works remain the copyright of their respective owners. For information regarding contributions or permission to reprint articles, contact

inquiry@columbiapress.org
Copyright 2009-2012 by Columbia Press, All Rights Reserved.